My girlfriend has several blue ribbon wins for artwork and some friends recently won a blue ribbon at the Alameda County fair for their American IPA beer. I'm on a mission to win a blue ribbon for something classically American: a pie.
To achieve this goal, I'll be baking a pie from scratch every week until I perfect a recipe. Kim, Kacie, Sena, Lauren, and Jeska from Wikia, along with my girlfriend, Melissa have agreed to taste and judge each pie. My first attempt was a cheddar apple pie.
Cheddar Apple Pie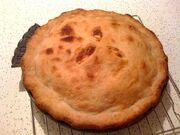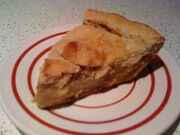 Crust
2 cups flour
1 teaspoon salt
1 cup shortening
1/2 cup water
Filling
3 Granny Smith apples
3 Fuji Apples
A handful of brown sugar
A couple shakes of cinnamon and white sugar
1 1/2 cups shredded sharp cheddar cheese
Directions
Blend crust ingredients together, wrapped in plastic, refrigerate overnight. Peel and core the apples, add brown sugar, cinnamon, and white sugar. Roll bottom pie crust, put in pie pan, cover with shredded cheese. Add apples, a little bit more cheese, and add top crust. Cut vents and brush with butter. Bake at 425 for 15 minutes, reduce to 400 and bake for 30 minutes.
Feedback
Crust was too thick, needed more salt, but was nice and flaky
Couldn't taste the cheese

White cheddar recommended
Add cheese to crust

Needed more sugar taste - "gooey warmth"
Apples should have been more crisp, more tart
Brown butter recommended
Ad blocker interference detected!
Wikia is a free-to-use site that makes money from advertising. We have a modified experience for viewers using ad blockers

Wikia is not accessible if you've made further modifications. Remove the custom ad blocker rule(s) and the page will load as expected.