Ingredients
Edit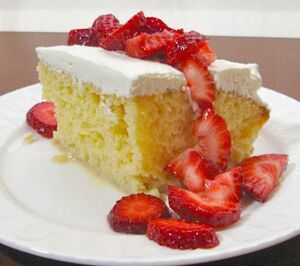 Directions
Edit
Preheat oven to 350 degrees.
Grease and flour a 13-by-9-by-2-inch baking pan.
Sift flour with baking powder.
In large bowl with clean beaters, beat egg whites until frothy.
Add Sugar gradually, beating to form stiff peaks.
Add yolks, 1 at a time.
Pour batter into prepared pan and bake until edges are golden brown, about 40 to 45 minutes.
Remove from oven and let cool on a rack.
Prepare Topping.
Pour Topping over cake and let sit until all the mixture is absorbed, 20 to 30 minutes.
Prepare Meringue and refrigerate.
Before serving, cut cake into squares and spread Meringue over each.
Topping:
Combine milks and sour cream (do not beat).
Use as directed.
Let sit until Sugar is dissolved.
In clean electric mixer bowl with clean beaters, beat egg whites.
Slowly pour sugar syrup over egg whites, beating constantly until meringue holds stiff peaks.
Store in refrigerator.
This can be served immediately but is best made 24 hours ahead and chilled.
The meringue will keep, covered, 2 days in the refrigerator.
Ad blocker interference detected!
Wikia is a free-to-use site that makes money from advertising. We have a modified experience for viewers using ad blockers

Wikia is not accessible if you've made further modifications. Remove the custom ad blocker rule(s) and the page will load as expected.