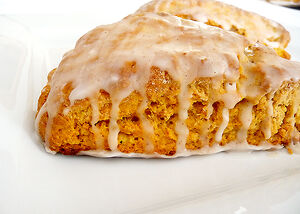 Info
Cook Time: 30 minutes
Serves: 12
Ingredients
Directions
Stir together the flour, cream of tartar, baking soda, salt, ground nutmeg and ground ginger.
In a separate bowl, beat butter and sugar together with an electric mixer. Add in the egg and corn syrup (mix the rest with a spoon so it won't be over-mixed).
Stir in the squash and half of the sifted dry ingredients.
Add the rest of the dry ingredients with just enough of the milk to make a soft dough. If it is too sticky to work, add a sprinkle (or two) of flour.
Knead only a little, gently, until you can pat it out into a big flat rectangle about ¾" thick (just under an inch).
Cut into 12 pieces with a floured knife. Transfer to a lightly greased oven tray.
Bake at 230°C (450°F) for 18 minutes.
Source
Pumpkin Scones from the Wikibooks Cookbook—source of original article, licensed under the GNU Free Documentation License.
Ad blocker interference detected!
Wikia is a free-to-use site that makes money from advertising. We have a modified experience for viewers using ad blockers

Wikia is not accessible if you've made further modifications. Remove the custom ad blocker rule(s) and the page will load as expected.