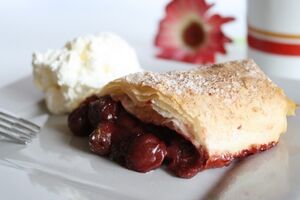 Prep Time: 20 minutes
Cook Time: 1 hour, 15 minutes
Yields: 6 servings
Description
Edit
Expand your baking repertoire and experiment with this sour cherry strudel. A tender, flaky crust envelops tart cherries, making for a strudel experience like no other.
Ingredients
Edit
Cherry filling:
3 pounds sour cherries, stemmed and pitted
3 cups sugar
1 cinnamon stick
Cheese filling:
2 pounds ricotta cheese
1/2 cup sugar (granulated or brown)
1 1/2 teaspoons vanilla extract
1/2 teaspoon lemon zest
1/2 teaspoon ground cinnamon
4 egg whites
Dough:
1 package phyllo dough
2 cups unsalted butter, melted
1 cup plain bread crumbs
1 cup walnuts or pecans, chopped
Directions
Edit
Cherry Filling:
1. In a large saucepan, combine cherries, sugar, and cinnamon. Bring mixture to a boil over medium-low heat for 30-60 minutes.
2. After cherries have cooled, strain cherries from juice and set aside. Discard any excess liquid.
Cheese filling:
3. Combine all ingredients for cheese filling in a large mixing bowl and mix well. Set aside.
Dough:
4. Preheat oven to 350 degrees F.
5. On waxed paper, spread out a few sheets of phyllo dough and brush with melted butter. Top the dough with a thin coating of cheese filling and then add cherry filling. Top with bread crumbs and nuts. Repeat the process until you have created 3-4 layers of dough and topping.
6. Roll up the strudel and place on a cookie sheet. Brush a thin coat of melted butter on top of strudel and bake for 45 to 50 minutes.
7. Remove strudel from oven and allow to cool before serving.
Ad blocker interference detected!
Wikia is a free-to-use site that makes money from advertising. We have a modified experience for viewers using ad blockers

Wikia is not accessible if you've made further modifications. Remove the custom ad blocker rule(s) and the page will load as expected.