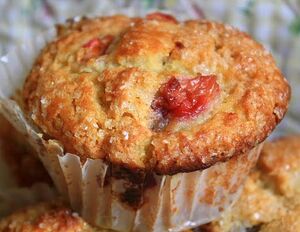 Prep Time: 15 minutes
Cook Time: 30 minutes
Yields: 12 servings
Description
Edit
Enjoy these muffins with your morning coffee or as an anytime snack!
Ingredients
Edit
1 can pitted red sour cherries
2 c. sifted all purpose flour
3 tsp. double acting baking powder
1/2 cup granulated sugar
1/4 teaspoon salt
1 egg
3/4 cup milk
1 tablespoon. lemon juice
1/4 cup melted butter
1 tablespoon grated lemon rind
Directions
Edit
1. Drain cherries and pat them dry on paper towel.
2. Sift together flour, baking powder, sugar, and salt. Beat 1 egg with milk and add to flour mixture, stirring until mixture is slightly blended.
3. Stir grated lemon rind and lemon juice into melted butter; mix these ingredients into the flour mixture.
4. Mix cherries with 1 tablespoon flour. Make sure cherries are sufficiently covered with flour before folding into batter.
5. Divide batter evenly among 12 well greased muffin cups. Bake at 375 degrees for 30 minutes, or until muffins are golden and puffy.
6. Serve with butter or sour cream (optional).
Ad blocker interference detected!
Wikia is a free-to-use site that makes money from advertising. We have a modified experience for viewers using ad blockers

Wikia is not accessible if you've made further modifications. Remove the custom ad blocker rule(s) and the page will load as expected.