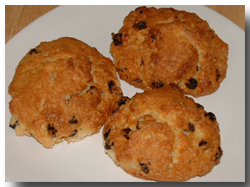 Prep Time: 10 minutes
Cook Time: 10 minutes
Yields: 16
Description
Edit
When looking for a quick and tasty small cake, why not try this tasty rock bun. It's quite healthy in its way and the dried fruit and mixed peel give the cake that bit different texture. These cakes go down well with cup of tea or coffee at supper time and you might even try one for dessert with custard for a change! The recipe makes about 16 buns.
Ingredients
Edit
225g (8 oz) Self Raising Flour
100g (4 oz) Margarine
75g (3 oz) Mixed Dried Fruit
25g (1 oz) Mixed Peel
50g (2 oz) Caster Sugar
1 Medium Egg
Seasoning - pinch of Salt
A little Milk to mix
Directions
Edit
Heat oven to 200°C. 400°F, Gas Mark 6.
Grease two baking trays.
Mix the flour and salt, rub in me margarine.
Stir in the dried fruit, mixed peel and sugar.
Mix to a stiff dough with egg and a little milk.
Place in rough heaps on the baking trays leaving plenty of space between.
Bake for 10-15 minutes
Ad blocker interference detected!
Wikia is a free-to-use site that makes money from advertising. We have a modified experience for viewers using ad blockers

Wikia is not accessible if you've made further modifications. Remove the custom ad blocker rule(s) and the page will load as expected.