Description
Edit
Almost too pretty a cookie to eat, but they taste so good! I actually won first prize for these cookies when I was a girlscout at age 13. Although I am unsure of the origin of the recipe, I thought it was too good to keep to myself. If you're creative and are up for a challenge, this is a perfect recipe for you. (requires a clean small paintbrush).15 servings 1 hour preparation.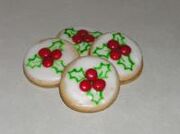 Ingredients
Edit
Decoration
Edit
Directions
Edit
Combine flour, sugar, cinnamon, baking powder, and ¼ tsp salt.
Cut in margarine (like pie dough).
Make a well in the center of the dough.
Stir dough until moist.
Flour a flat surface and roll dough out to ⅛" thick.
Cut into 2" circles.
Bake at 375°F for 8–10 minutes.
Place on a rack to cool.
Once cooled, place ½ tsp jam on the bottom of one cookie.
Cover the jam with another cookie, ie cookie- jam- cookie.
In a small bowl stir together powdered sugar, vanilla and enough milk to make a glaze.
Glaze the top of one side of each double cookie and place 2-3 cinnamon candies into the glaze.
The candies are to be the holly berries.
Allow glaze to set.
Use a small clean paintbrush to paint several holly leaves and a stem on each cookie using green food coloring.
Ad blocker interference detected!
Wikia is a free-to-use site that makes money from advertising. We have a modified experience for viewers using ad blockers

Wikia is not accessible if you've made further modifications. Remove the custom ad blocker rule(s) and the page will load as expected.