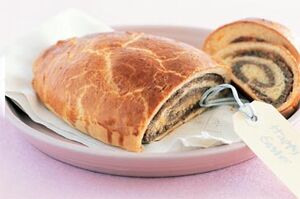 Prep Time: 30 Minutes
Cook time: 45 Minutes
Serves: 2 Loaves
Description
Edit
Traditional Hungarian Christmas Dessert. It is absolutely yummy. Preparation time is the time that the dough needs for rising.
Ingredients
Edit
Directions
Edit
Combine ¾ cup warm milk, dried yeast and caster sugar. Set aside for 5 minutes until foamy.
Process plain flour, butter, cubed and egg yolks in a food processor until breadcrumbs form. Transfer to a bowl.
Mix in the yeast mixture. Knead until smooth. Place in an oiled bowl. Cover and set aside for 45 minutes.
Process walnuts, cinnamon and caster sugar in a food processor until finely ground. With the motor running, add ¼ cup warm milk until a smooth paste forms.
Preheat oven to 180°C. Knead the dough until smooth, then halve. Roll each portion out to a 13cm x 24cm rectangle. Spread with the walnut filling. Roll up. Slightly flatten to about 7cm wide. Place on a lined baking tray. Brush top with 1 egg, beaten. Stand 20 minutes. Bake for 35-40 minutes.
Ad blocker interference detected!
Wikia is a free-to-use site that makes money from advertising. We have a modified experience for viewers using ad blockers

Wikia is not accessible if you've made further modifications. Remove the custom ad blocker rule(s) and the page will load as expected.