Ingredients
Edit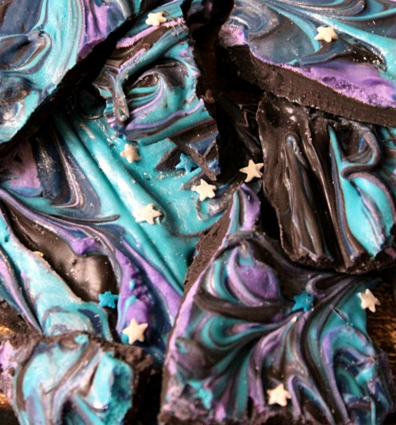 2 pounds black chocolate candy melts
half pound purple chocolate candy melts
half pound blue chocolate candy melts
half pound light blue chocolate candy melts
edible glitter dust
star sprinkles
Instructions
Edit
Melt the black candy melts in the microwave at 30 second intervals until completely melted.
Pour into a foil lined 9x13 pan and spread evenly.
Melt other candy melt colors and dollop onto black.
Lightly swirl the colors together to make a galaxy look.
Sprinkle on star sprinkles.
Let cool and harden completely.
Brush on a little edible glitter dust.
Break into chunks and serve!
Ad blocker interference detected!
Wikia is a free-to-use site that makes money from advertising. We have a modified experience for viewers using ad blockers

Wikia is not accessible if you've made further modifications. Remove the custom ad blocker rule(s) and the page will load as expected.