Description
Edit
A crisp
chocolate
crust, rich
chocolate
filling and billowy
cream
topping make this dessert too sinful to pass up—but because it is so rich, a small slice is still satisfying.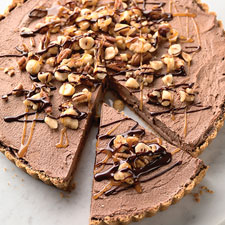 Ingredients
Edit
Pastry Crust
Edit
Directions
Edit
Preheat oven to 425°F.
Pastry Crust
Edit
In a food processor, pulse bake mix, cocoa powder and sugar substitute to combine, about 10 seconds.
Add butter and pulse until mixture resembles a coarse meal, about 30 seconds.
Add cream cheese and sour cream and pulse until mixture begins to come together, about 30 more seconds.
Transfer dough to a 9" pie plate and pat into an even layer on bottom and sides.
Prick the dough about 15 times with a fork and crimp edges decoratively.
Cover lightly with aluminum foil and bake 10 minutes, until set.
Uncover and bake 10 more minutes until light golden brown.
Cool crust before filling.
Place chocolate and 1 teaspoon vanilla extract in a medium bowl.
Heat one cup cream with one cup sugar substitute and coffee over medium-high heat until just about to boil, about 4 minutes.
Pour into pie shell, smooth top and chill 30 minutes.
In a medium bowl with an electric mixer on high speed, beat remaining cream, remaining sugar substitute, remaining vanilla extract and cocoa powder until medium peaks form, about 4 minutes.
Spread over chocolate layer and freeze at least 3 hours or until firm.
Remove from freezer 10 minutes before serving.
Ad blocker interference detected!
Wikia is a free-to-use site that makes money from advertising. We have a modified experience for viewers using ad blockers

Wikia is not accessible if you've made further modifications. Remove the custom ad blocker rule(s) and the page will load as expected.