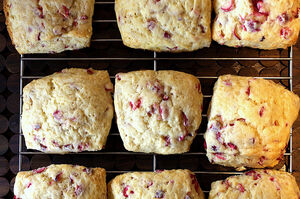 Ingredients
Edit
Directions
Edit
In small bowl, mix cranberries and 2 tablespoons sugar.
Set aside.
Preheat oven to 400°F.
butter an 8-inch circle in center of large baking sheet, or cover sheet with parchment paper.
Set aside.
In large bowl, mix remaining ⅓ cup sugar, flour, baking powder, salt and spices.
Mix in lemon peel and ginger if using.
Cut in butter until mixture resembles coarse crumbs.
Add cranberries, and toss well.
Make well in center of dry ingredients.
Add cream mixture.
Stir just until dough pulls together.
Keeping dough in bowl, knead 3 or 4 times with floured hands.
On floured cutting board, pat dough into 7-inch circle.
Slice dough into 6 or 8 wedges, as you would pie.
Reassemble slices in center of baking sheet, leaving ¼ inch between pieces.
Bake until golden brown, 20 to 25 minutes.
Cool on sheet 1 minute, then loosen scones with spatula.
Slide entire batch onto cooling rack.
Cool thoroughly before wrapping.
Ad blocker interference detected!
Wikia is a free-to-use site that makes money from advertising. We have a modified experience for viewers using ad blockers

Wikia is not accessible if you've made further modifications. Remove the custom ad blocker rule(s) and the page will load as expected.