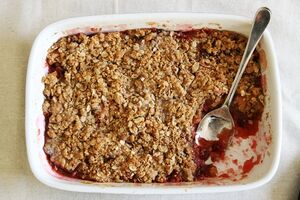 Description
Cran Apple Crisp taken from the USDA's Recipe Finder Database—US government, public domain resource.
Cook Time: 35 minutes
Serves: 8
Ingredients
Directions
Preheat oven to 400°F.
Wash apples, remove cores and slice thinly, keeping peel on.
In a bowl, combine the cranberries and apples.
Pour into an 8x8 inch pan.
Combine melted margarine with oatmeal, brown sugar, and cinnamon until well blended.
Sprinkle over apple/cranberry mixture.
Cover and bake for 15 minutes.
Uncover and bake 10 more minutes until the topping is crisp and brown.
Serve warm or cold.
Ad blocker interference detected!
Wikia is a free-to-use site that makes money from advertising. We have a modified experience for viewers using ad blockers

Wikia is not accessible if you've made further modifications. Remove the custom ad blocker rule(s) and the page will load as expected.