Description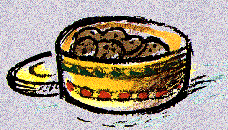 Fiber and nutrition are "partners" in these crunchy cookies.
Cowboy Cookies from Recipes for Better Nutrition During Cancer Treatment by the National Cancer Institute, public domain government resource—original source of recipe
Cook Time: About 35 minutes
Serves: 48
Ingredients
Directions
Cream shortening, add sugars, and beat well.
Add the eggs and vanilla and stir to blend well.
Add the dry ingredients at one time.
Mix to blend thoroughly.
Last, stir in oatmeal, nuts, chocolate chips, and raisins.
Mix well.
Drop by spoonfuls on cookie sheet and bake for 13–15 minutes in 350°F oven.
This dough freezes well and can be sliced later to make fresh cookies.
Ad blocker interference detected!
Wikia is a free-to-use site that makes money from advertising. We have a modified experience for viewers using ad blockers

Wikia is not accessible if you've made further modifications. Remove the custom ad blocker rule(s) and the page will load as expected.