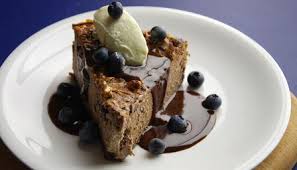 Ingredients
Edit
Directions
Edit
Combine cream cheese, sugar, cocoa, water and vanilla, mixing at medium speed on electric mixer until well blended.
Blend in egg yolks, pour over crust.
Bake at 350°F for 30 minutes.
Loosen cake from rim of pan, cool before removing rim of pan.
Beat egg whites and salt until foamy, gradually add marshmallow creme, beating until stiff peaks form.
Sprinkle pecans over cheesecake to within ½-inch of outer edge.
Carefully spread marshmallow creme mixture over top of cheesecake to seal.
Bake at 350°F for 15 minutes.
Cool.
Ad blocker interference detected!
Wikia is a free-to-use site that makes money from advertising. We have a modified experience for viewers using ad blockers

Wikia is not accessible if you've made further modifications. Remove the custom ad blocker rule(s) and the page will load as expected.