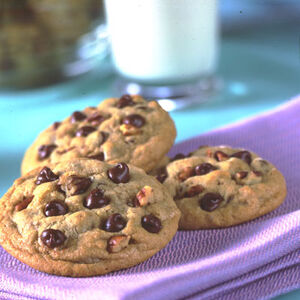 Chocolate Chip Cookies is a baked choaclate chip cookie receipe, that makes 54 cookies.
Ingredients
Edit
Directions
Edit
Beat shortening for 30 seconds.
Add brown sugar and continue to beat till well blended.
Add vanilla and mix well.
Mix in the baking powder, salt and the flour.
Beat thoroughly.
Add the water, followed by the chocolate chips.
Using a teaspoon, mould a teaspoonful of dough and place carefully on a cookie sheet.
Bake at 350°F for 10 minutes.
Cool on a wire rack.
Ad blocker interference detected!
Wikia is a free-to-use site that makes money from advertising. We have a modified experience for viewers using ad blockers

Wikia is not accessible if you've made further modifications. Remove the custom ad blocker rule(s) and the page will load as expected.