Description
Edit
Ingredients
Edit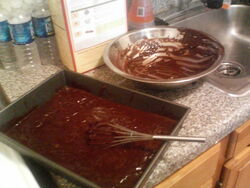 Directions
Edit
Combine the flour, cocoa, baking powder and salt.
Gradually add the dry mixture to the egg mixture.
Mix until well blended.
Spread in a greased 8-inch square pan.
Bake at 350 degrees F for 40–45 minutes or until brownie begins to pull away from edges of the pan.
Cool and cut into squares. Enjoy!
Chocolate Videos
Edit
Ad blocker interference detected!
Wikia is a free-to-use site that makes money from advertising. We have a modified experience for viewers using ad blockers

Wikia is not accessible if you've made further modifications. Remove the custom ad blocker rule(s) and the page will load as expected.