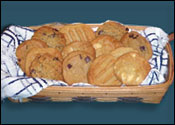 Ingredients
Edit
Directions
Edit
Add the egg and lemon juice, and beat well.
Now add the flour, baking powder, salt, nutmeg and cardamom.
Mix the paneer, beat till it is well blended.
Add the almonds, and mix well.
Form small flattish rounds.
Preheat the oven.
Place some biscuits at a time on a baking sheet.
Place them far apart to allow the biscuits to expand.
Bake at 150°C for 15 minutes or till light brown.
Cool it for some time before removing.
Store in air-tight jars.
Ad blocker interference detected!
Wikia is a free-to-use site that makes money from advertising. We have a modified experience for viewers using ad blockers

Wikia is not accessible if you've made further modifications. Remove the custom ad blocker rule(s) and the page will load as expected.