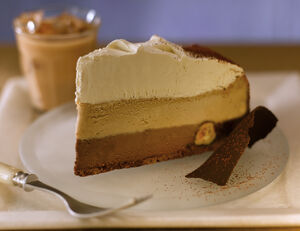 Description
Edit
Contributed by World Recipes Y-Group
Ingredients
Edit
Directions
Edit
Combine crust ingredients.
Press onto bottom and halfway up sides of 9 inch spring-form pan.
Set aside.
Using electric mixer, beat together cream cheese, sugars, flour and liqueur until smooth.
Add eggs, beating on low speed just until blended.
Combine milk and instant coffee stirring until dissolved; stir into cream cheese mixture.
Pour into prepared crust and bake at 450°F for 10 minutes.
Reduce heat to 250°F and continue baking 45 to 55 minutes.
Remove from oven and run knife around rim of pan to loosen cake and prevent cracking.
Cool thoroughly at room temperature.
Chill 8 hours or overnight.
If desired, garnish with whipped cream and cinnamon or chocolate coffee beans.
Enjoy.
Ad blocker interference detected!
Wikia is a free-to-use site that makes money from advertising. We have a modified experience for viewers using ad blockers

Wikia is not accessible if you've made further modifications. Remove the custom ad blocker rule(s) and the page will load as expected.