Description
Edit
Buko is the tagalog term for young coconut. Buko pie is one of the most must-try product and specialty of Laguna. It is also one of the very few pastries that the Filipino enjoys.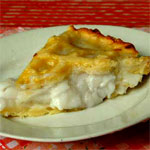 Ingredients
Edit
Pie pastry
Edit
Directions
Edit
Pie pastry
Edit
Cut in shortening with a pastry blender until mixture is crumbly.
Add a little more water if dough is still crumbly.
Refrigerate for 30 mixtures.
With a rolling pin, roll dough thinly, about ¼ inch thick, on a lightly floured board.
Make the pastry.
Bake the pie crust, set aside and cool.
Combine pie-filling ingredients except cornstarch mixture in a deep saucepan.
Cook over medium heat, stirring constantly.
When boiling gently, add cornstarch mixture, stirring fast, until combined mixture has thickened.
Pour mixture evenly into prepared pie crust.
Let cool, then refrigerate until firm.
Top with toasted sweetened coconut flakes just before serving.
Ad blocker interference detected!
Wikia is a free-to-use site that makes money from advertising. We have a modified experience for viewers using ad blockers

Wikia is not accessible if you've made further modifications. Remove the custom ad blocker rule(s) and the page will load as expected.