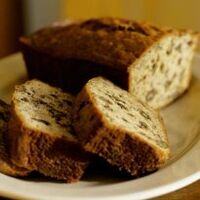 Description
Edit
Milk Nonfat, Dry Instant by the US Department of Agriculture, public domain government resource—original source of recipe
Ingredients
Edit
Directions
Edit
Preheat oven to 350°F.
In a medium bowl, stir together flour, dry milk, baking powder, and cinnamon.
In a large bowl, beat eggs, bananas, sugar, and oil.
Add flour mixture to egg and banana mixture. Stir until just blended. Stir in nuts, if desired.
Pour into greased, or sprayed, 9x5x3 inch loaf pan.
Bake 60–70 minutes until a wooden toothpick inserted near center comes out clean.
Cool in pan for 10 minutes; then remove to wire rack to cool completely.
Slice loaf down the center and cut into 1" pieces.
Ad blocker interference detected!
Wikia is a free-to-use site that makes money from advertising. We have a modified experience for viewers using ad blockers

Wikia is not accessible if you've made further modifications. Remove the custom ad blocker rule(s) and the page will load as expected.