Description
Edit
The Universal Middle-Eastern Dessert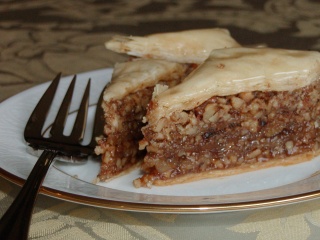 Ingredients
Edit
Directions
Edit
Set aside.
Brush a baking dish measuring about 9x13x2 inch with some of the melted butter.
Stack about 15 fillo sheets using this method.
Spread one half of the stuffing mixture on the fillo sheets.
Spread the remaining half of the stuffing on top.
With a sharp knife, cut in diamond, or square shapes.
Pour remaining melted butter on top.
Bake in 350°F oven for about 30 minutes, or until the surface turns light golden color.
Pour honey over baklawa.
When at room temperature, transfer individual pieces onto a serving dish.
Serve at room temperature or chilled.
Ad blocker interference detected!
Wikia is a free-to-use site that makes money from advertising. We have a modified experience for viewers using ad blockers

Wikia is not accessible if you've made further modifications. Remove the custom ad blocker rule(s) and the page will load as expected.