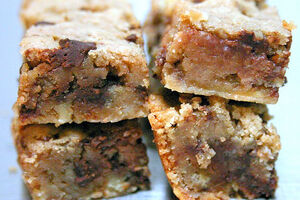 These are the easiest blondies to make. There are only 5 ingredients (6 with a pinch of salt), and you can make them easily in 10-15 minutes, minus baking time.
Ingredients
Edit
8 tablespoons (1 stick, 4 ounces or 113 grams) butter, melted
1 cup (218 grams or 7 3/4 ounces for light; 238 grams or 8 3/8 ounces for dark) brown sugar
1 large egg
1 teaspoon vanilla or 1/2 teaspoon almond extract

1 cup (4 3/8 ounces or 125 grams) all-purpose flour
Pinch salt
Directions
Edit
Butter an 8×8 pan Mix melted butter with brown sugar – beat until smooth. Beat in egg and then vanilla. Add salt, stir in flour. Mix in any additions (below). Pour into prepared pan. Bake at 350°F 20-25 minutes, or until set in the middle. I always err on the side of caution with baking times — nobody ever complained about a gooey-middled cookie. Cool on rack before cutting them.
Add anything you want! Chocolate chips, butterscotch chips, chocolate chunks, coconut, toasted walnuts, etc...
Ad blocker interference detected!
Wikia is a free-to-use site that makes money from advertising. We have a modified experience for viewers using ad blockers

Wikia is not accessible if you've made further modifications. Remove the custom ad blocker rule(s) and the page will load as expected.